Participatory & Community Arts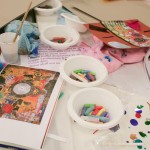 I've been successfully fundraising, managing and delivering creative community projects since 2005 – and before then worked in community project management and education . Although recently I've mainly worked in Birmingham with women & teenagers, I love the high energy and positive feel of developing creative projects with any group. I believe I understand how to create the conditions in which the individual and collective benefits of arts projects can be transformative, sometimes long-lasting and life-changing, always purposeful and fun.
View community arts projects »
Artwork & exhibitions
As a film maker I want to challenge the way we watch media and to question our relationship to the film's subject and the role of the artist. I've made films for the opening year (2015) of the new multi-million pound Shrewsbury Museum & Art Gallery about our relationship with objects from the past inspired by Sontag's essay Unguided Tour with the artists group re:collect. My latest work for the Museum is a drawing and sound piece about the role music plays in altering our awareness of war – Pack Up Your Troubles – based on pianola music – see 'The Pianola Project' on this website for details – it's all work in progress!
My short film 'Reading Agatha Christie' was submitted to the Max Mara Prize for Women Artists 2008 by British artist Cornelia Parker. It was made with a group of Iraqi Kurds in Birmingham and records a struggle to control their readings of Christie's 'They Came to Baghdad' in Arabic. The film won the Ikon Gallery Student Prize and has been shown in the US and Cairo; I was awarded the Birmingham City University 'Overall Best Student' in the Arts in 2008 & my MA Fine Arts in 2010.
My work is mainly video and video installations, including large-scale public projections; and I paint in oils.
Evaluation & Research
I have a long history of research and teaching experience. My research, in not-for-profit, cultural and community sectors, has been focussed on links to action, producing usable interpretations which can be used to 'improve and prove'. I prefer to work in participatory projects, where methods can be negotiated. I have mainly worked in the field of qualitative research, using discussion groups, formal and informal interviews, questionnaires, online and social networking, video and digital imagery. I have developed a number of creative evaluation methods using mark making and meditation, using them in several projects to critique services, explore ideas and feelings in Women's Refuges in Wolverhampton, Birmingham and London. And 365 questionnaires analysed using PASW software for Godiva Awakes in Coventry 2012…Over the past few years I've co-designed, developed and taught evaluation strtatgey courses with the wonderful Jo Hargreaves, of Morris, Hargreaves, MacIntyre, international evaluation consultants for Arts Connect West Midlands /ACE, teaching small-to largesized arts companies and individuals.
I completed my PhD research , Making and Doing: the evaluation of creative community projects in the West Midlands (Coventry University) in Autumn 2014. It's an evidence based exploration of the evaluation of the impact of community arts interventions on qualitative outcomes such as 'social cohesion' and 'community well-being' which makes pragmatic proposals for evaluation strategies which are systemic, 'of the project' and creative. This is sponsored by the Economic & Social Research Council and Coventry-based public and community arts company Imagineer Productions – of Godiva Awakes fame .http://www.imagineerproductions.co.uk/blog_holders/102/view .
This research is participatory, qualitative and reflective and I've been trialling methods of evaluation in projects in the West Midlands, Birmingham, Wolverhampton and Shropshire. Please get in touch and follow my twitter feed @createevaluate. Last year saw the completeion of a three year research programme for Coventry University/the National Rural Touring Arts Forum, an ACE R&D bid which I wrote with colleagues – researching the impact of rural touring arts all over England.
March 2012 Visiting Lecturer at Coventry University School of Art – talking about the ethics, career structure, joys and pitfalls of participatory and community arts on the professional Practice module for final year Fine Art undergraduates
Jan – Dec 2011 Action-researcher with
UnLtd/Millennium Award into the use of mobile phone / internet social
networking for community arts project feedback and evaluation; with technical
support from Coventry University's Serious Games Institute.
Jan 2011 – April 2011 Hybrid/Creative Futures for Birmingham City Council; Researcher developing creative solutions to non-art organizational aims in the voluntary sector – I worked with a local domestic violence project to see how creative activities could be used by their own staff to improve participation in key meetings.
I've recently taught Professional Practice to Foundation Degree art students (Shrewsbury College) – as well as for several years teaching part time on FE arts courses such as Foundation and BTEC Diploma, and before that, A Levels & GCSEs, NVQs etc etc.
From 2008-2009 I was a Lecturer in Research and Study Skills at Glyndwr University, Clwyd, supporting under and post graduates in the School of Art and launching a Widening Participation programme there for non-traditional entrants.